At CERN robotics technologies are used for several reasons, namely:
Remote inspection and teleoperation
Robotic preventive maintenance and inspection
Human intervention procedures preparation
Environmental measurements, maintenance and inspections in radioactive areas
Quality assurance
Post-mortem analysis of radioactive devices to analyse causes of failure in the tunnel
Reconnaisance
Search and rescue
Remote inspections, maintenance and online tunnel structure monitoring
Robots allow us to intervene during long shutdowns, technical stops, etc and prepare tools and procedures. They are also used to inspect and verify the conditions of the tunnel infrastructure over the years. Through high-resolution cameras and machine learning techniques robots can detect and evaluate defects (cracks, water leaks, changes).

Quality assurance
We developed the Automated Robotic Inspection System (ARIS), which autonomously is able to visually inspect the entire inner surface of radiofrequency cavities in LHC, Linac and FCC, and to detect any anomalies at short distance. This system is equipped with a liquid lens able to overcome depth of field (DOF) limitations, a high-resolution camera which ensures excellent quality photos regardless of the distance within the entire cavity, and an anticollision mechanism that can immediately stop the inspection system, if required. This system is controlled using the CERN Robotic Framework - a robust software framework that is modular and used on all inhouse robotic platforms. For further information about visual inspections performed by a robotic system, please click here.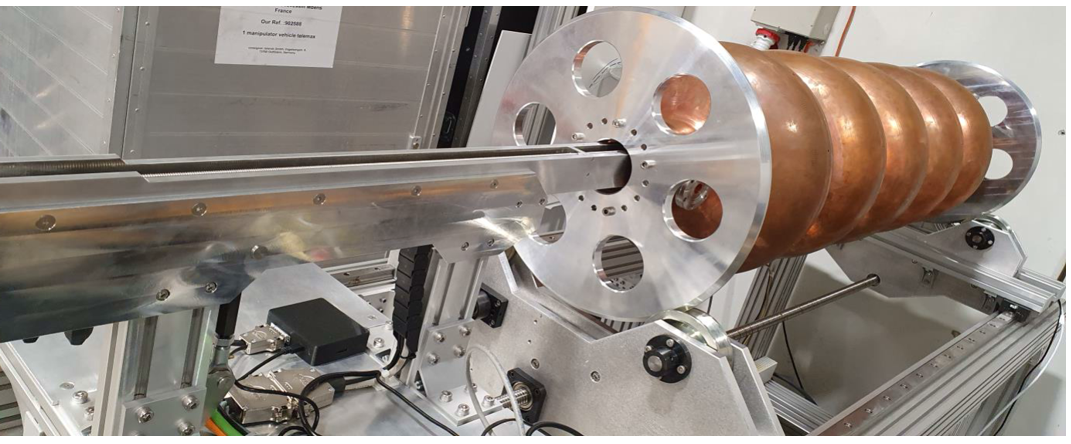 Furthermore, our robots can do spectographic analysis thourgh supervised deep learning which helps in ensuring heterogeneous sample poistion for measurement quality control.
Post-Mortem analysis
Robots can perform milling machine processes to manufacture aluminum, steel, iron, etc.
Reconnaissance, search and rescue
Moreover, robotics plays a very important role in emergency interventions, such as fire or accidents in the tunnels, by performing fire inspection, victim search and initial fire suppression. We apply among others machine learning techniques, radar and 3D cameras, which can remotely detect people and vital signals in disaster scenarios and guide CERN Fire Brigade in their interventions. Similar techniques have been applied also in medical applications (see MARCHESE project and its latest news).